The one part of the pandemic that had extreme death rates similar to that predicted in the models were nursing homes in the northeast states run by Democratic governors. Pennsylvania Gov. Tom Wolf (D), New York Gov. Andrew Cuomo (D), and New Jersey Gov. Phil Murphy (D) have all received intense backlash for forcing nursing homes to accept coronavirus-infected patients.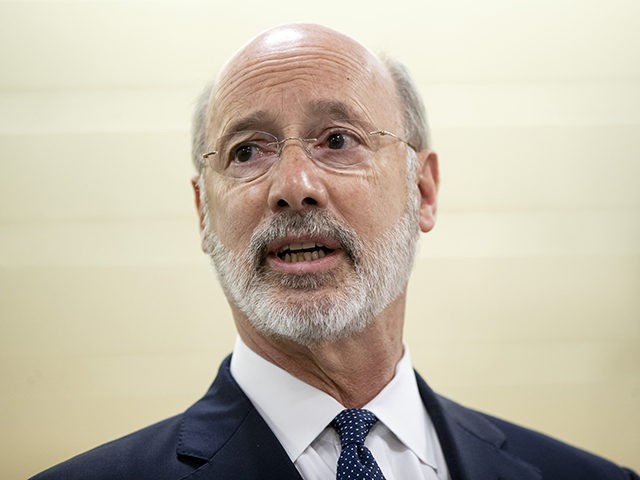 Breitbart News wrote about how New York and New Jersey congressional Democrats have remained silent on their governors' decision to mandate that long-term care facilities host coronavirus patients.

Breitbart News sent comment requests to Pennsylvania's congressional delegation, House and Senate, and Democrats have ignored the request for comment.

The Pennsylvania Democrats that ignored the comment request include:

Bob Casey
Brendan Boyle
Dwight Evans
Madeleine Dean
Mary Scanlon
Chrissy Houlahan
Susan Wild
Matt Cartwright
Conor Lamb
Mike Doyle
The source article lists a number of comments by Pennsylvania Republicans taking Gov. Wolf to task for endangering the state's most vulnerable citizens. The quote I think best sums up Pennsylvania's poor performance is by Rep. Guy Reschenthaler (R-PA):
Gov. Wolf, along with unelected bureaucrats in the Pennsylvania Department of Health, acted like petty tyrants by prioritizing shutting down small businesses rather than focusing on protecting our most vulnerable senior citizens. By forcing nursing homes to accept COVID-19 patients, Gov. Wolf put thousands of seniors in harm's way, with nearly 70 percent of COVID-19 deaths in the state coming from these facilities. Gov. Wolf's one-size-fits-all approach to fighting this pandemic has upended our economy and rendered one in four workers jobless, all while putting our seniors in care homes at greater risk.
Compounding matters Gov. Wolf has decided that the lock-down will not end until we are perfectly safe from a virus that may turn out to be less deadly than a normal flu. 
"I think that's what it's going to take to really get our economy back to normal, and I really think that can't happen fully, 100 percent until we have a vaccine that is foolproof," Wolf said. "That's my own stance."
Emergency powers were never intended to be invoked indefinitely. It is quite possible that there never will be a vaccine, let alone a "foolproof" vaccine for COVID-19. A vaccine for the other forms of coronavirus has never been approved.
It looks more and more like the only way Pennsylvania will return to normal is through the ballot box. The current political leaders and most especially the Democrats must be thrown out of office during the next election. If that is not what happens then they will continue their unconstitutional abuses of power. That electoral outcome is not assured. Too many local leaders and members of the public have been remarkably willing to meekly obey, without protest, the undermining of the Bill of Rights and due process.
J.J. Sefton recently compared the importance of this November's election outcome to the Winston Churchill's famous "Our finest hour" speech.
No matter what happens come November, we cannot go on as before and we will not go on as before. I think we are approaching one of those moments that Winston Churchill so eloquently described on the eve of the Battle of Britain almost exactly 80 years ago:

…But if we fail, then the whole world, including the United States, including all that we have known and cared for, will sink into the abyss of a new dark age made more sinister, and perhaps more protracted, by the lights of perverted science. Let us therefore brace ourselves to our duties, and so bear ourselves, that if the British Empire and its Commonwealth[e] last for a thousand years, men will still say, "This was their finest hour.
Sources: https://www.breitbart.com/politics/2020/05/21/exclusive-pennsylvania-republicans-torch-petty-tyrants-tom-wolf-rachel-levine-over-nursing-homes/
https://www.breitbart.com/politics/2020/05/21/gov-tom-wolf-pennsylvania-cannot-return-normal-without-foolproof-vaccine/
http://cutjibnewsletter.com/2020/05/22/the-morning-report-5-22-20/